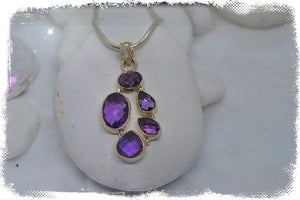 Amethyst Pendant with an 18" .3 mm snake chain
If you love amethyst then this as good as it gets. Five beautiful cut stones that sparkle and catch the light. It comes with an 18" .3 mm snake chain. The pendant measures 4.5 cm long and 2 cm wide.
Only one of these available.
Psychic Awareness: Amethyst is a powerful stone for healing. It also aids in psychic awareness and helps with imagery. If worn while sleeping, it helps you interpret dreams and ward off nightmares. Amethyst enhances intuition and inspiration, gives you clarity and insight, and is an excellent stone for meditation and relaxation.