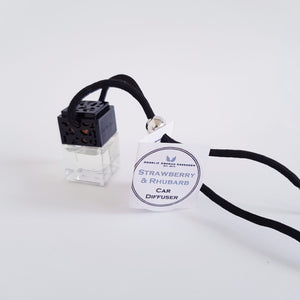 Car Diffuser
Car Diffusers are designed to be hung from your car's rear view mirror and the rope should be tied in a knot once hung from the mirror. The Car Diffuser will fragrance your car for months.
How to use:
The wooden cover inside the cap functions as a wick, allowing the fragrance oils to evaporate into
the air and thus fragrance your surroundings
Remove cap seal from the bottle before use
Whenever you feel the fragrance is too mild, shake the bottle slightly, but keeping the bottle upright, so that the fragrance oil penetrates the wooden cover again
Warning
Only Hang your car diffuser from your rear-view mirror
Wipe all spillages immediately as the liquid can damage car interior
Designer Collection

Alien (similar to)
Angel (similar to)
Aventos (similar to)
Black Orchid (similar to)
Boss Orange (similar to)
Boss Original (similar to)
Flowerbomb (similar to)
Joop (similar to)
La Vie Est Belle (similar to)
Mademoiselle (similar to)
Snow Fairy (similar to) 
Classic Collection
Black Pomegranate
Blueberry & Vanilla
Paradise Beach
Strawberry & Rhubarb
Designer Fragrance Interpretations. Name trademarks and copyrights are properties of their respective manufacturers and/or designers. These versions are NOT to be confused with the originals and Angelic Aromas Aberdeen has no affiliation with them. These versions of the fragrances were created through chemical analysis and reproduction. The customer should not confuse or be misled by the manufacturer or designers name and valuable trademark.