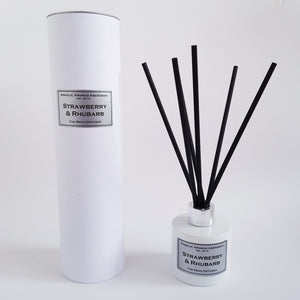 Gloss White Reed Diffuser
Reed Diffusers are the perfect way to fragrance your home and are a fantastic alternative to a candle. These luxurious Reed Diffusers are all hand poured by Angelic Aromas Aberdeen. They only use an Eco-friendly diffuser base and only the highest quality fragrance oils and reeds available on the market. These Reed Diffusers last approximately 3 months or longer. They are packaged in a matching gift box and a choice of reeds are available, standard white, black or grey.
Net volume 100ml.

Designer Collection
Mademoiselle (similar to)
La Vie Est Belle (similar to)
Black Orchid (similar to)
Aventos (similar to)
Flowerbomb (similar to)
No. 5 (similar to)
Angel (similar to)
Snow Fairy (similar to)
Classic Collection
Black Plum & Rhubarb
Black Pomegranate
Blueberry & Vanilla
Damson Plum, Rose & Patchouli
Fairy Dust
Fresh Linen
Lemongrass & Ginger
Lime, Basil & Mandarin
Paradise Beach
Parma Violet
Sparkling Lemon
Strawberry & Rhubarb
Tangerine, Grapefruit & Lime
Winter Collection
Gingerbread
Spiced Orange
Winter Spice
Designer Fragrance Interpretations. Name trademarks and copyrights are properties of their respective manufacturers and/or designers. These versions are NOT to be confused with the originals and Angelic Aromas Aberdeen has no affiliation with them. These versions of the fragrances were created through chemical analysis and reproduction. The customer should not confuse or be misled by the manufacturer or designers name and valuable trademark.