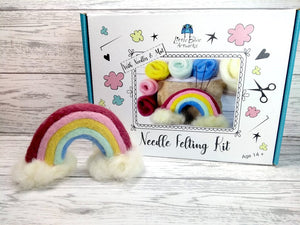 Needle Felt Rainbow Craft Kit
Ready to get crafty?
This is a Needle Felting kit to make a cute 3D wool sculpture of a rainbow and clouds. This will be both light enough to hang but also sturdy enough to stand on its own 'cloud' feet.
LOADS of felty fun, and easy to make

This kit comes with all materials and tools needed for the project:

Core wool, 5 colours, 3 different size needles and a hand made felting pad.

This kit, as with all of these kits, are completely plastic free. The needles colour coded with cruelty free/vegan varnish. The mats are filled with organic buckwheat husks and hand sewn.
Time for some Felty FUN!!!

This project has an online tutorial which can be found on YouTube but a link to a higher quality tutorial will be provided in this kit.

Whether it be for yourself or a lovely gift a project for a friend or family member, this is a fun, beginner friendly and therapeutic activity and a lovely way to brighten your home.