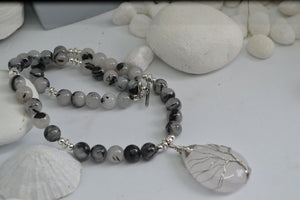 Quartz Tree of Life Necklace
This featured necklace is a quartz tree of life necklace with Rutilated Quartz also know as angels hair those are the dark strands running through the crystal.

This necklace is 18" long and the pendant measure 2" length and 1.5 inches wide. The rounds beads are 10 mm.
This necklace is wearable with so many colours and would make a great addition to your jewellery collection.
Healing properties of Rutilated Quartz
Rutilated Quartz can clear energy blockages from all of the chakras, and attune one to their Divine Purpose. Rutilated Quartz puts off an exceptionally high level of energy and is said to bring physical and mental balance and stability. Rutilated Quartz also enhances self-reliance and helps with decision-making.