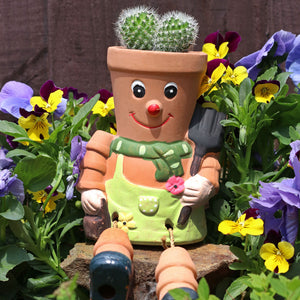 Dispatched from the UK
The Flower Pot Mum
Terracotta Tim has been looking everywhere for his mum but she found him at the bottom of the garden searching around the shed.
What a great family collection of fun for your garden.
Terracotta Tim's mum also has a loop so that she can also be hung up or sat in the garden.

Give the perfect gift to a close friend, cherished loved one, someone special or something special for your own garden.
Plant a small flower in the top to give the illusion of a botanical hairstyle or hat.
(Cactus not included with mum)
Fast delivery 
The Flower Pot Mum Size: H35cm x W11cm x D8cm

If you missed out on Terracotta Tim you can find out more by
clicking his picture below