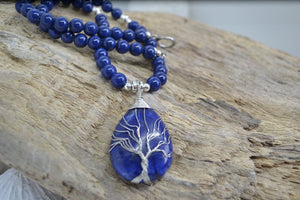 Wired Tree of Life Pendant
A beautiful pendant in lapis lazuli and the round beads are 8 mm and are made from jade that is dyed blue.

It is accented with silver hematite and finished with a stainless steel t-bar making it very easy to put on and off.
Healing with Lapis Lazuli
It brings harmony and deep inner self-knowledge. Encourages self-awareness, allows self-expression and reveals inner truth, providing qualities of honesty, compassion and morality to the personality. Stimulates objectivity, clarity and encourages creativity.
Healing with Jade
A protective stone, Jade keeps the wearer from harm and brings harmony. Jade attracts good luck and friendship. It stabilises the personality and promotes self-sufficiency. Soothes the mind, releasing negative thoughts