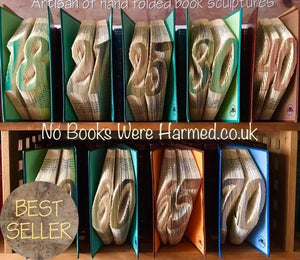 Created in the UK
Your choice of celebratory number

Any two digits

Perfect for birthdays, anniversaries and other milestones
These large, clear numbers are perfect for lots of things - table numbers, birthdays, anniversaries, floor numbers, property numbers (perfect for shops, restaurants, galleries and the like).
Choose any two digits.
Simply add the 2 digits you would like created in a book to the cart page, you will see it under Add a note to your order
If you forget to add your 2 digits we will be in touch by email to confirm, so don't worry :)
: : Hand Folded, never cut book art.
No cuts, no tears, no glue, no trickery. It's truly amazing what books can do!

Photos shown are of past pieces, most of which have gone to their new forever homes.
Exact colours and final appearances naturally vary from book to book.
If you can say it with flowers, they'll remember it with a book 
Taking unwanted, pre-owned & vintage books, and ONLY hand folding them, to give them a new lease of life.  Rescuing them from their sure fate of the nearest landfill, and gently rehabilitating them into a pleasing form which will hopefully afford them 'life' for another generation or MORE. 
Created in the UK
All items are handmade in the UK and sometimes due to high demand please allow 7 working days for delivery, but we aim to deliver this unique gift sooner :)